Regular price
$74.99 USD
Sale price
$59.99 USD
Unit price
per
Sale
Sold out
A set of 60 methods guaranteed to improve any meeting, workshop, or session.
⚡️ Increase participation
⚡️ 
Confidently plan your agenda
⚡️
Instantly expand your tools for engagement
20+ years of professional wisdom, categorized to help you surface emotions, generate ideas, clarify concepts, and make decisions.
Loved by thousands of facilitators, educators, coaches, managers, organizers, consultants, and business leaders.
🔎 Deck Specs

60 ultra-durable waterproof plastic cards 2.5" x 3.5" (standard playing-card size)

15 blue cards for surfacing emotions
15 green cards for brainstorming
15 orange cards for clarification
15 red cards for decision making

All cards are double-sided. Short description of the process on one side. The other side blank space to write your notes directly on the cards with wet-erase markers.
📦 Shipping Details

Orders are shipped within 2-business days. Tracking included with every order.

Free shipping on all US orders. Sent via USPS orders typically arrive within 1-5 days.

10$ flat-rate shipping internationally via Ascendia. Live-pricing of other carriers available by region at check out. Please note that all international customers are responsible for any customs/VAT. Orders typically arrive within 1-4 weeks.

All orders are carbon neutral via offsets through Mossy Earth. Read more about our carbon neutrality here.
🌲 Our Values

We believe that good facilitation can change the world.

In the thousands of choices we make as a business we are constantly doing our best to be the company we wish to see.

For us that includes creating thoughtful resources, making facilitation easy and accessible to learn, investing in our local community, and making sure our products are made ethically and made to last.

We're a 100% Women and LGBTQ+ owned and operated small business based in beautiful Vermont 🍁  
View full details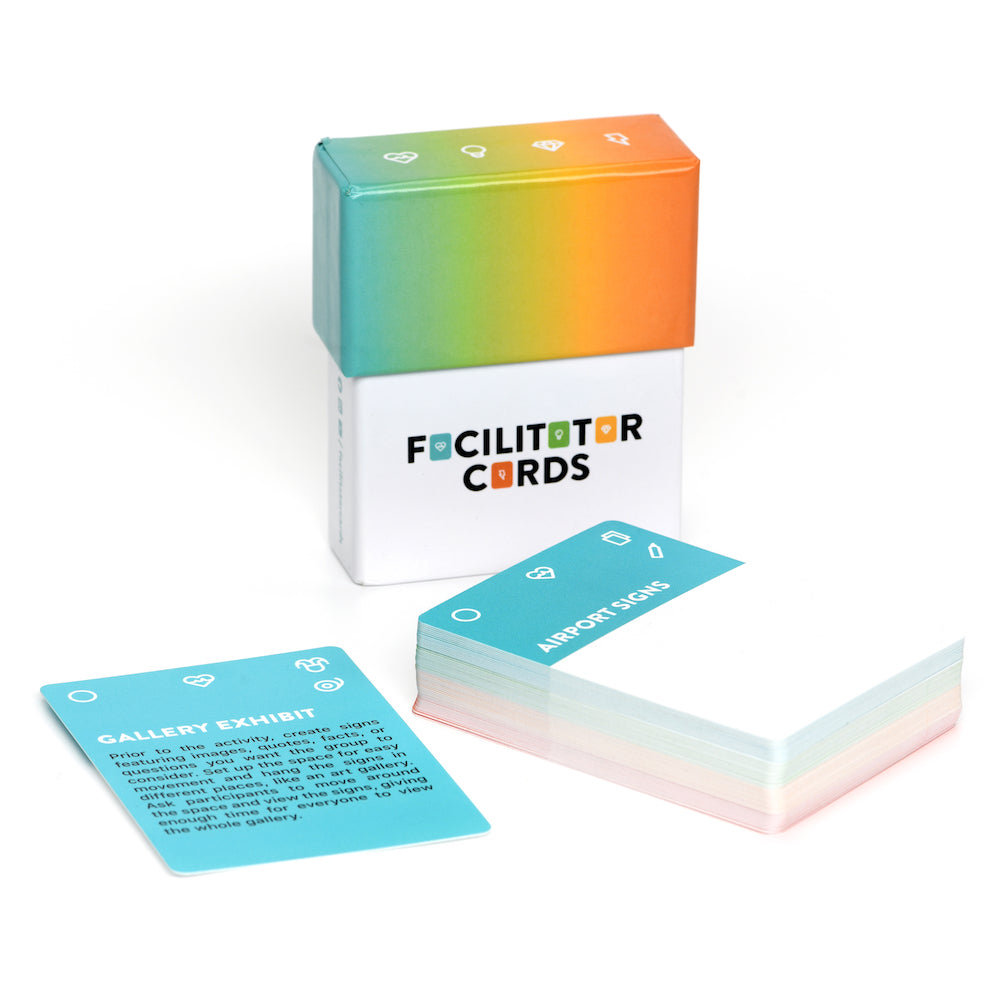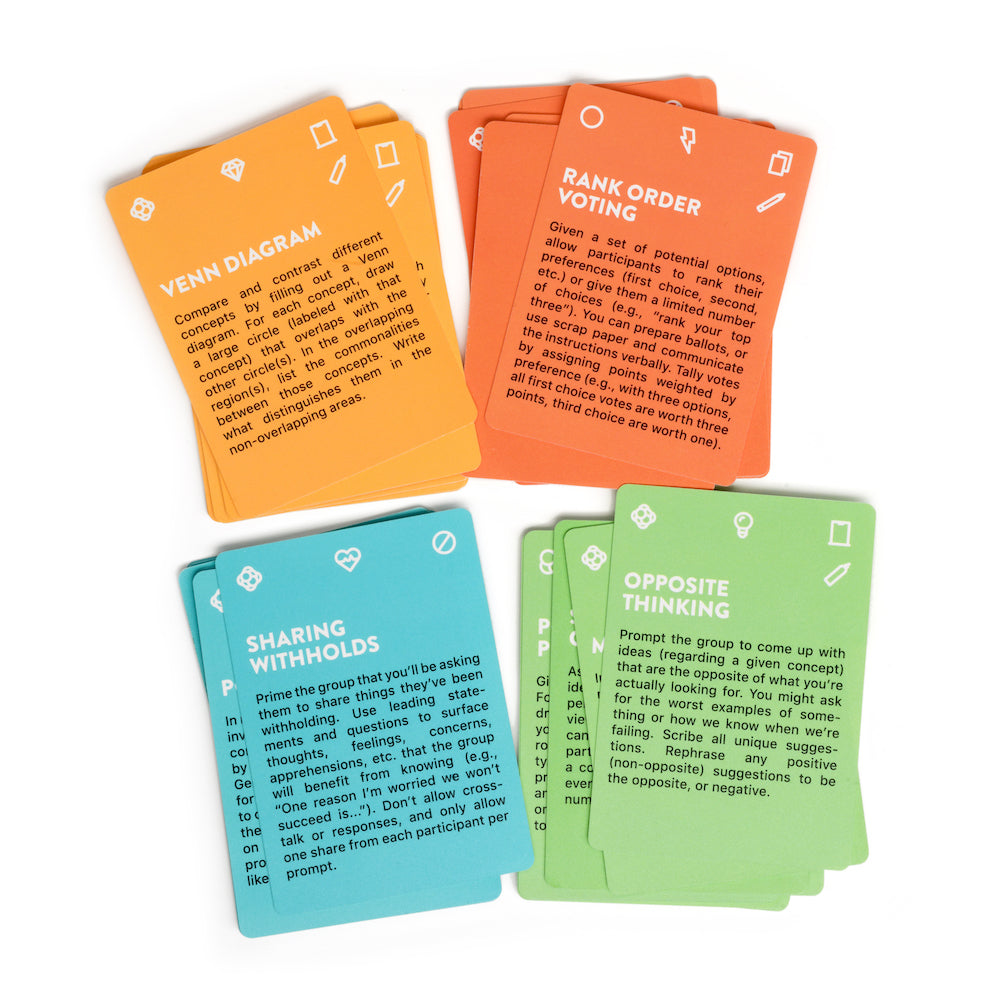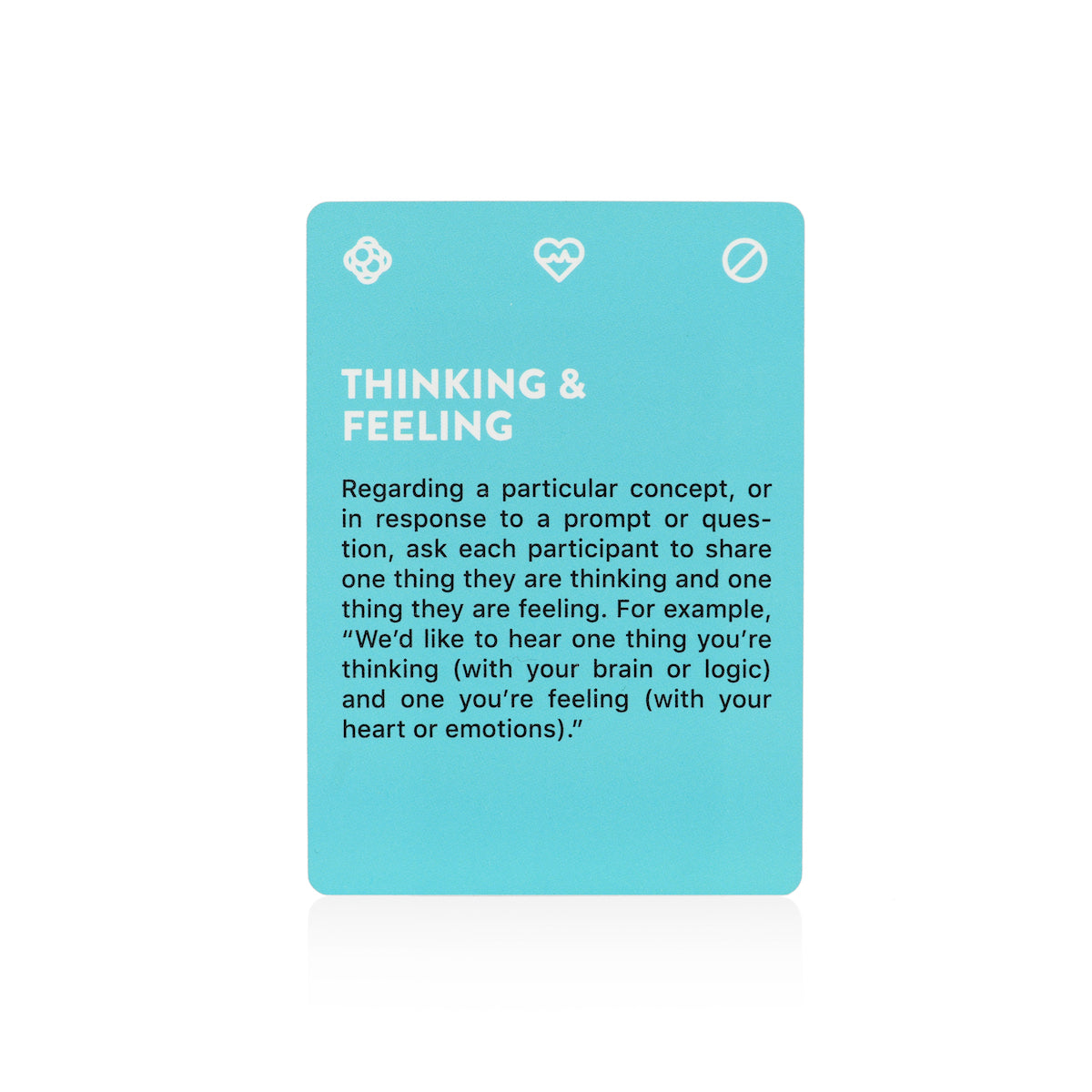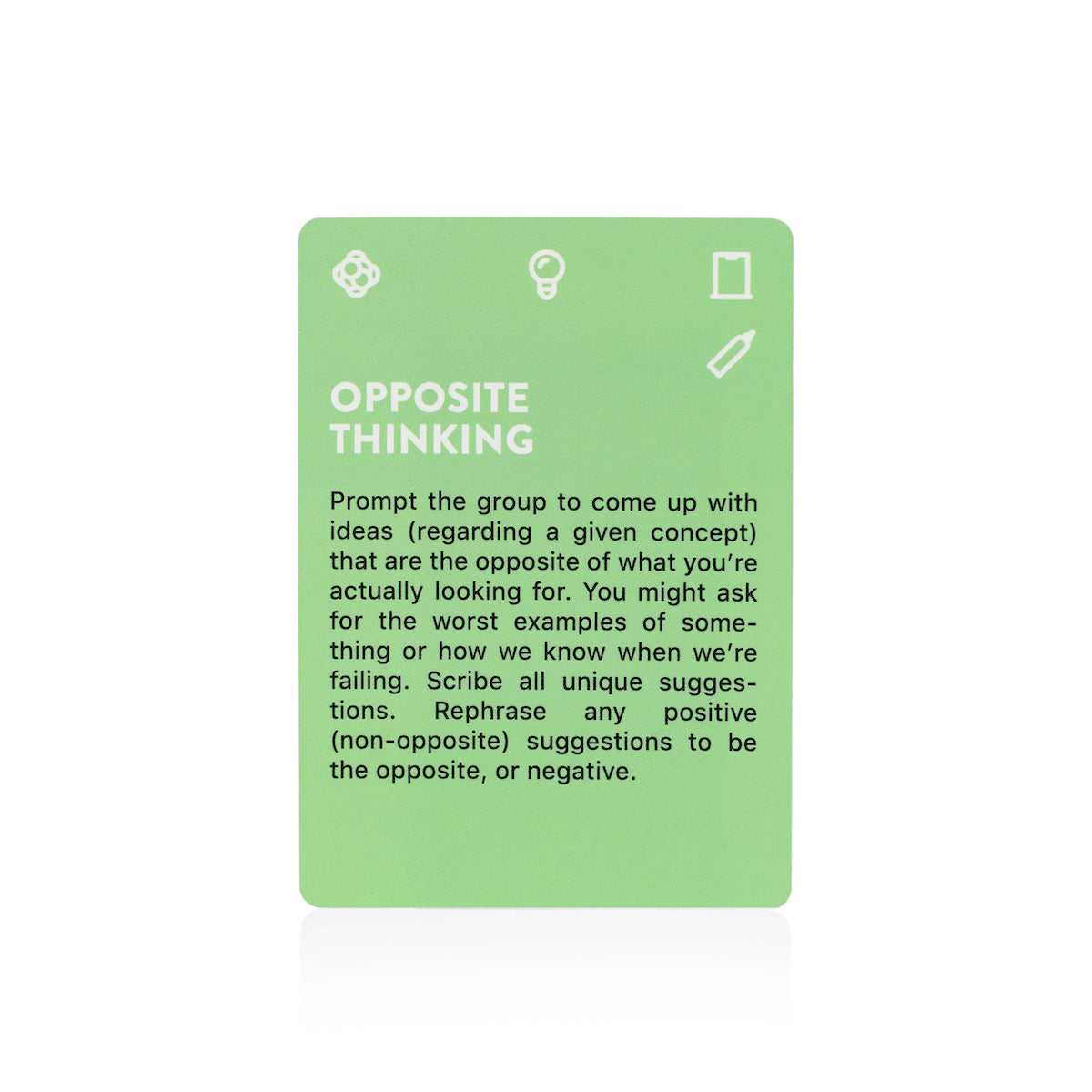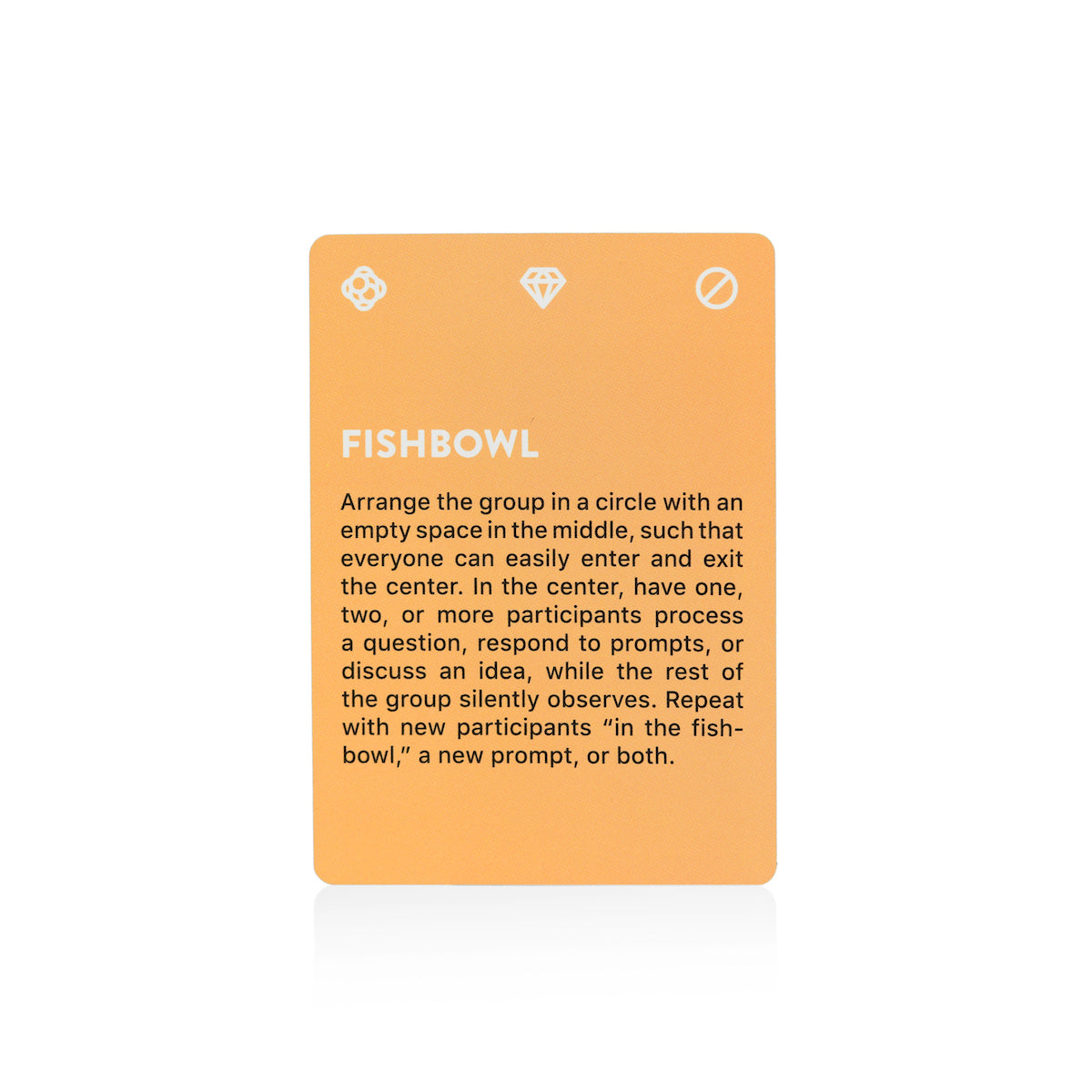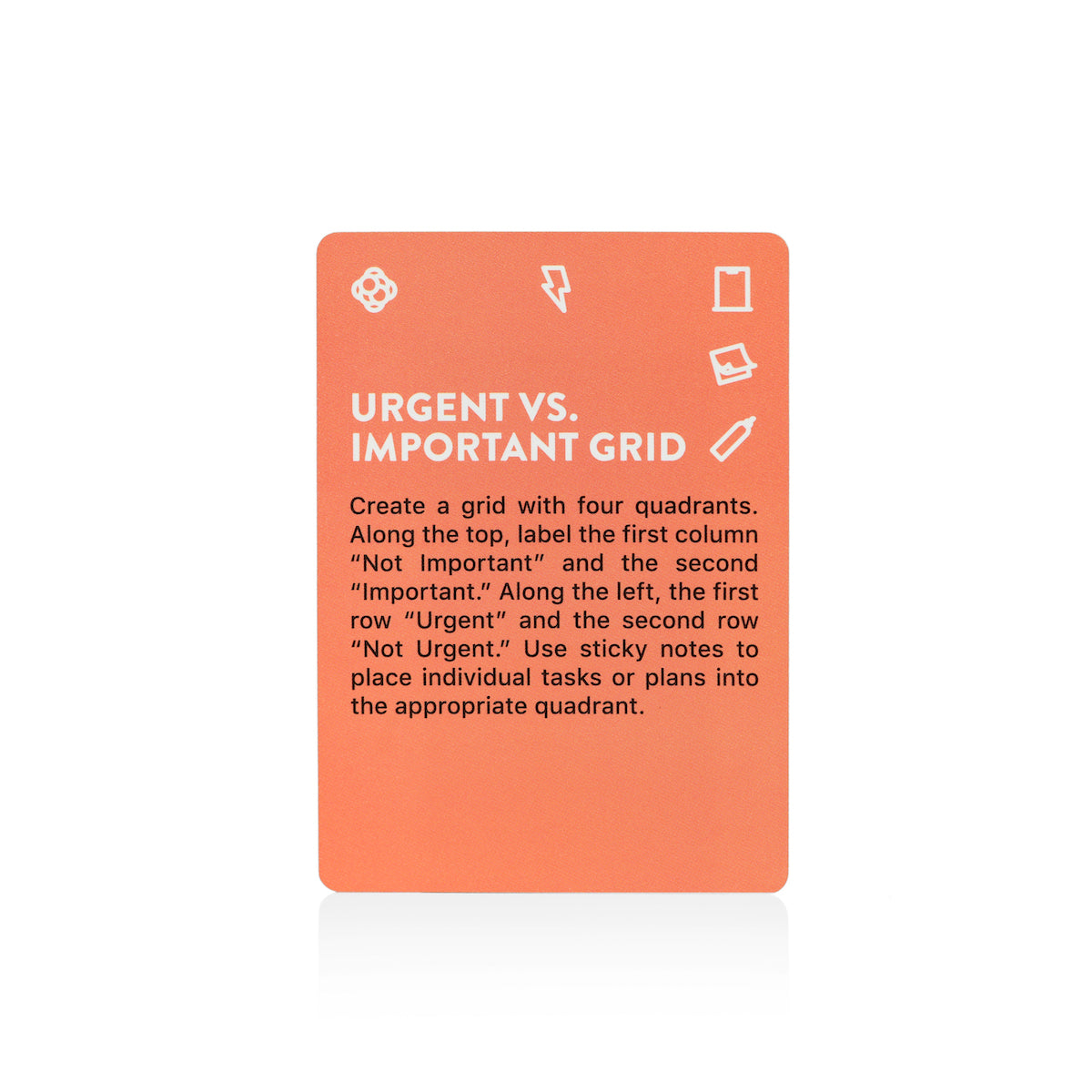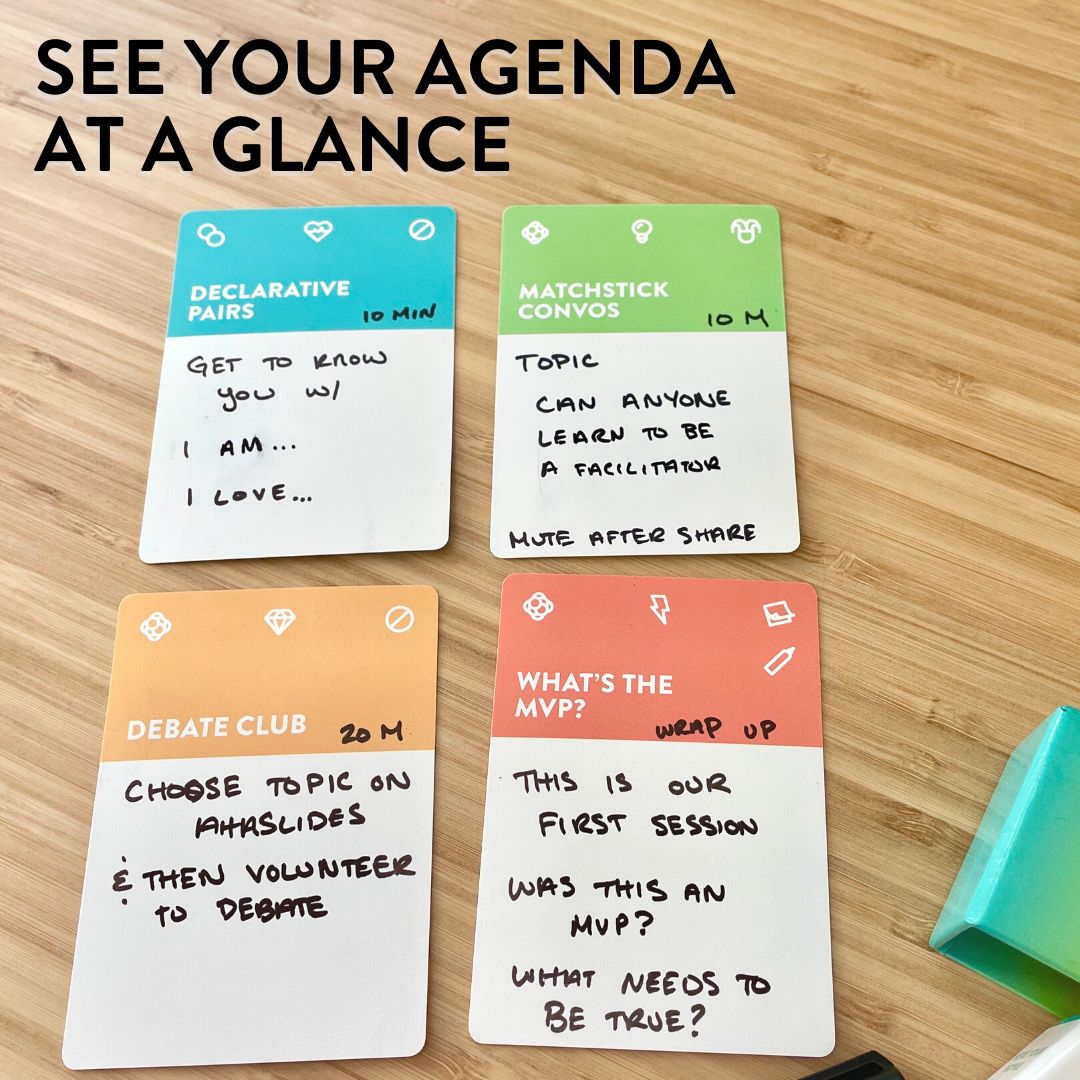 What are Facilitator Cards?
Each card describes a highly effective facilitation activity.
Categorized by color to help you plan your agenda start to finish.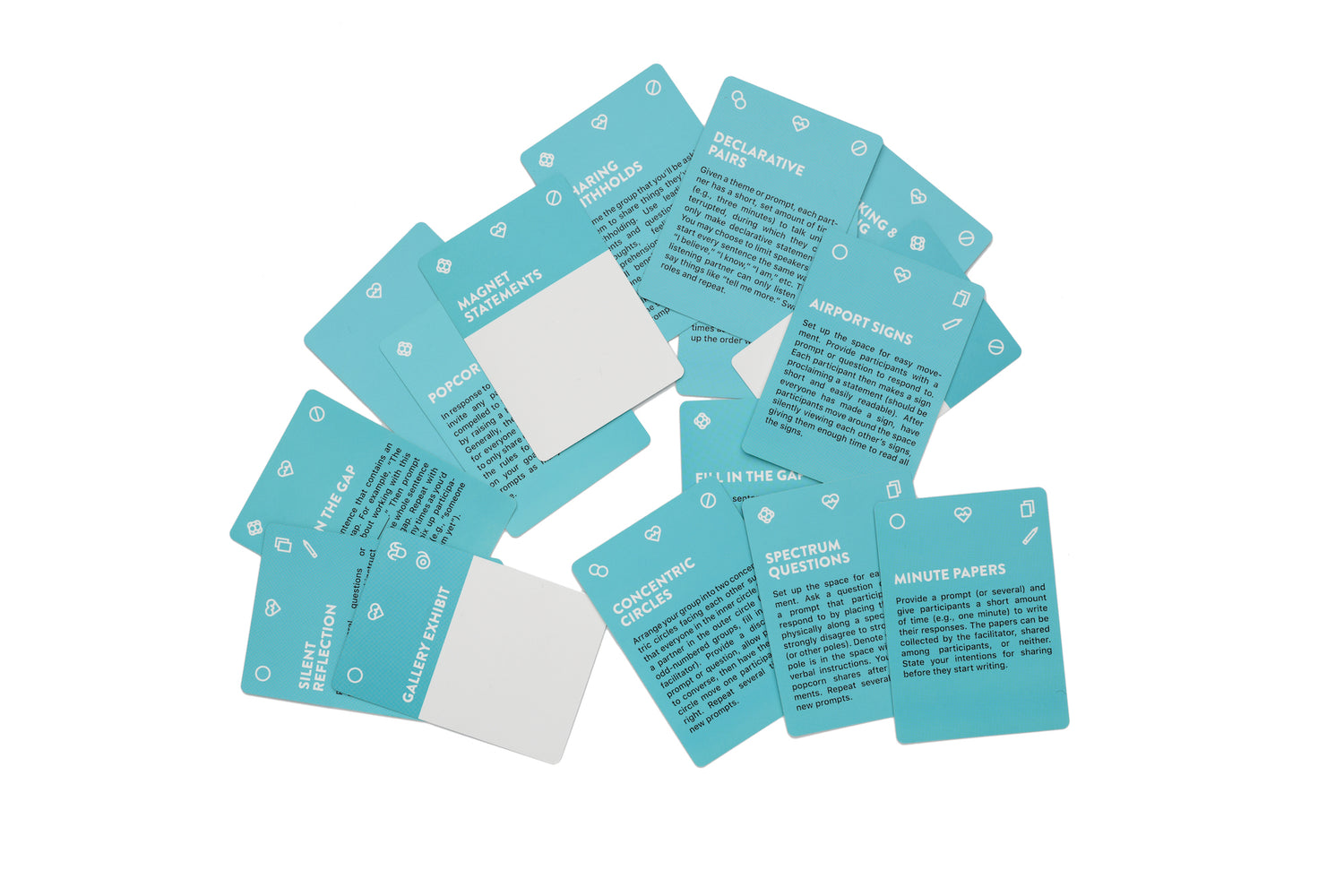 Surface Emotions
Get everyone interacting. These activities ensure everyone feels psychologically safe to share thoughts, feelings, and emotions. Feel confident running great check-ins & debriefs!
Dynamic icebreakers
Inclusive participation
Get to the heart of what people are feeling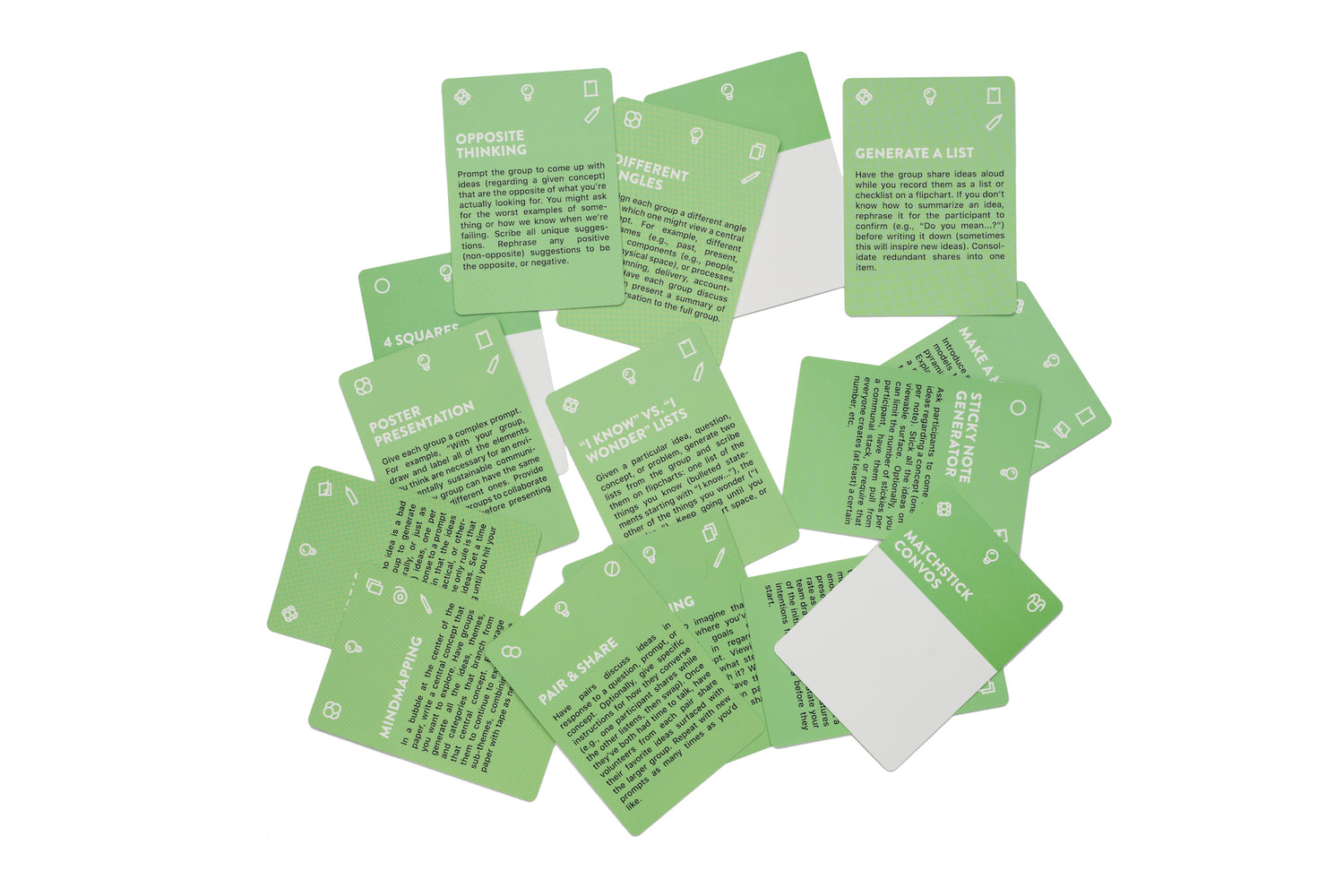 Generate Ideas
Brainstorm even better! These processes make sure every idea gets on the table, not just the first or loudest ideas. Break groupthink and move past self-consciousness.
Stretch creativity & diversify options
Approach old problems in new ways
Introvert-friendly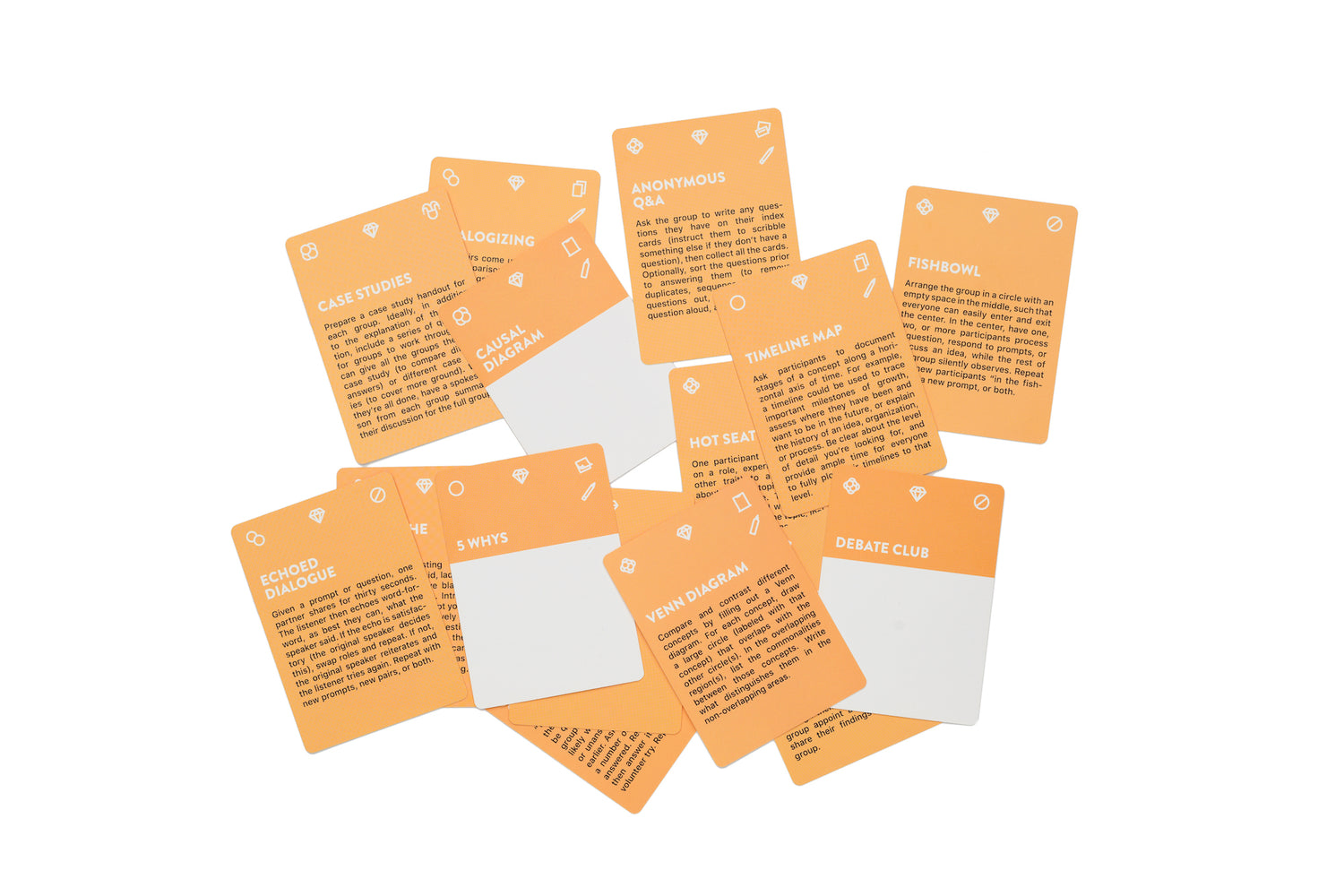 Gain Clarity
Address the important questions. These techniques help get everyone on the same page and create a sense of buy-in. Guide the group with ease when conflict arises.
Identify sticking points
Check-in with the experts
Speak to the real issues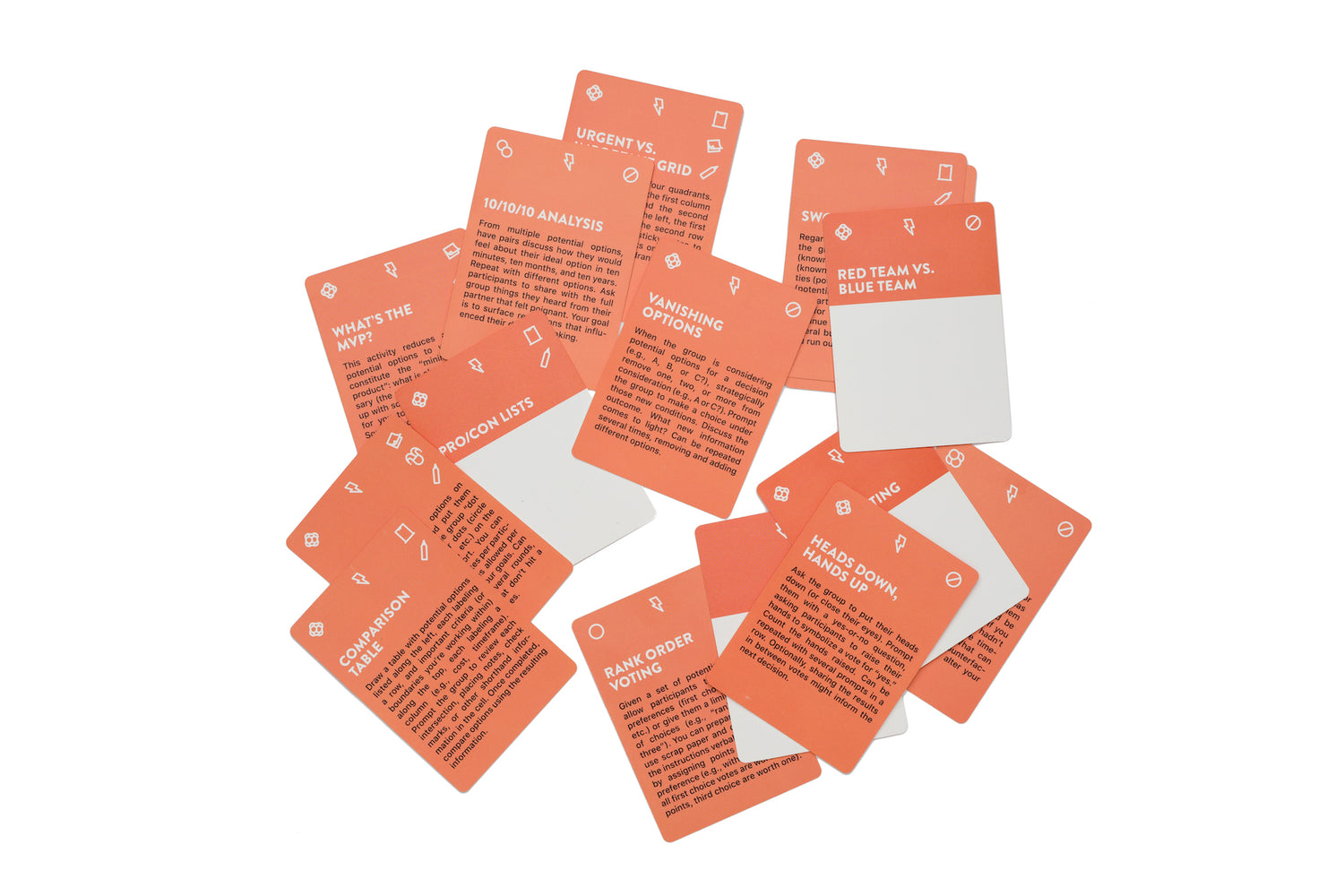 Evaluate & Decide
Vote on final decisions and create action plans. These tactics empower deeper analysis. Allow every voice to be heard and walk away with clear next steps.
Compare & contrast ideas directly
Outline & evaluate plans
Deepen understanding & commitment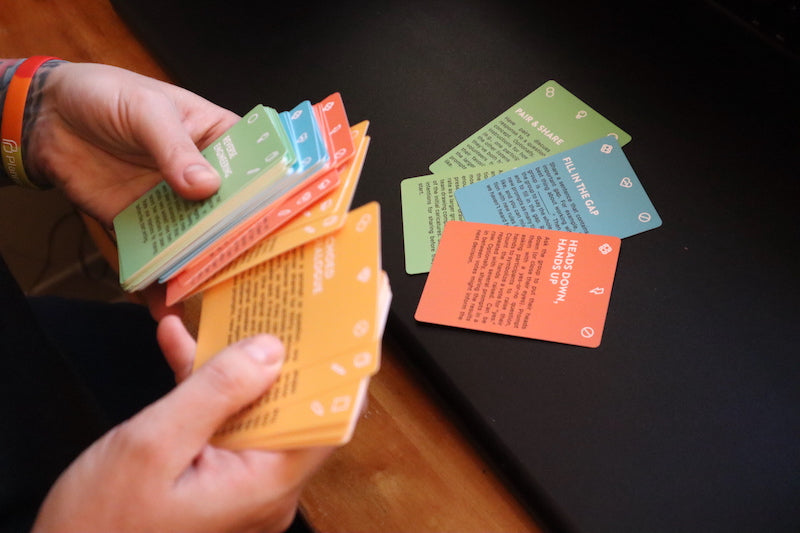 Free Training
Getting started is the hardest part. Which is why we offer Card Sharks, a personalized training session included for free with your deck. Learn together, grow faster, and get the most out of your deck!
See when the next session is!
Get your Facilitator Gear
Regular price

Sale price

$25.00 USD

Unit price

per